The Affordable Housing Association of Indiana Scholarship Committee has selected this year's recipient of the 2017 AHAIN Scholarship in Memory of Ralph E. Biggs. Drumroll, please….
Congratulations Kimblerley Rowe!
Kimberley is a resident of Ravine Heights Apartments Phase II, managed by Imperial Management, in Attica, Indiana. Cindy Eller manages the property where Kimblerley lives. Ms. Rowe is a
recent graduate of Seeger Memorial Junior-Senior High School in West Lebanon and will attend Vincennes University in the fall where she plans to study Marine Biology and Zoology.
One of Kimberley's instructors stated in a letter of recommendation, "What has impressed me the most about her over the years has been her maturity for someone her age… she has the ability to get along well with people her age as well as people who are younger or older than she is. She has a positive outlook on things and doesn't let the "bumps in the road" deter her from finishing what she needs to get done."
In her application essay How Affordable Housing has Affected Me Kimberley describes the importance of affordable housing in furthering her education, "Affordable housing has made a huge impact on my life. Three and a half years ago me, my mom and sister were finally able to leave our abusive home. When we left we had nowhere to go and were bouncing between two homes, one which had running water and the other didn't. …By living in affordable housing we were able to keep our home, and still make other bills that were necessary."
Recipients of the AHAIN Scholarship in memory of Ralph E. Biggs will be provided $750 per semester, for a total of $1,500 per academic year, provided s/he remains a full time student with a C average.
Site Manager, Cindy Eller, receives $250 for her efforts locating a deserving student and assisting them in their application process. THIS COULD BE YOU! Start scouting students at your properties for next year's scholarship!
A special thank you to USDA-RD for aiding in the on-site presentation of the award to our 2017 scholarship winner.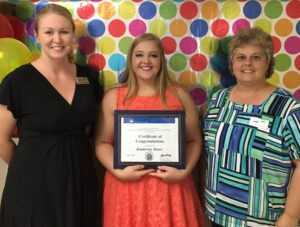 We appreciate Kevan Biggs' continued support of AHAIN and for beginning the scholarhip in memory of his father, Ralph E. Biggs.